Serving the cities of Encinitas, Solana Beach, and Del Mar
Our Mission
To serve our communities by providing safe and reliable recycled water and wastewater services in order to protect the environment and public health.
Vision Statement
We pursue innovative practices to produce clean water in an environmentally, socially, and fiscally responsible manner.
Project News & Announcements
We apply the latest technologies to recycle and treat stormwater and wastewater. Learn more about San Elijo JPA's modernization program, our commitment to the environment, and the facilities we operate to serve the public.
San Elijo JPA Leads Future Engineers on Tour of Pump Station
Date: November 15, 2023
In collaboration with San Diego State University, a San Elijo Joint Powers Authority executive led future engineers on a tour Oct. 20 of the Moonlight Beach Pump Station in Encinitas.
Tom Falk, San Elijo JPA's Director of Infrastructure & Sustainability, provided eight students with an up-close look at pumps that can move up to 2,000 gallons per minute.
Over the din of electric motors, the seniors from university's Department of Civil, Construction and Environmental Engineering peppered Mr. Falk with questions, tapped notes into cell phones and photographed the industrial equipment.

SDSU's Capstone Senior Design Course is a key part of the engineering curriculum, challenging graduating students to apply academic knowledge to real-world situations.

San Elijo JPA sponsored two project teams to design upgrades to the pump station and a new pipeline from the station to the San Elijo Water Campus on Manchester Avenue, where wastewater would be recycled to reduce the community's reliance on imported water.

In December, the student projects are set to be presented during Senior Design Day.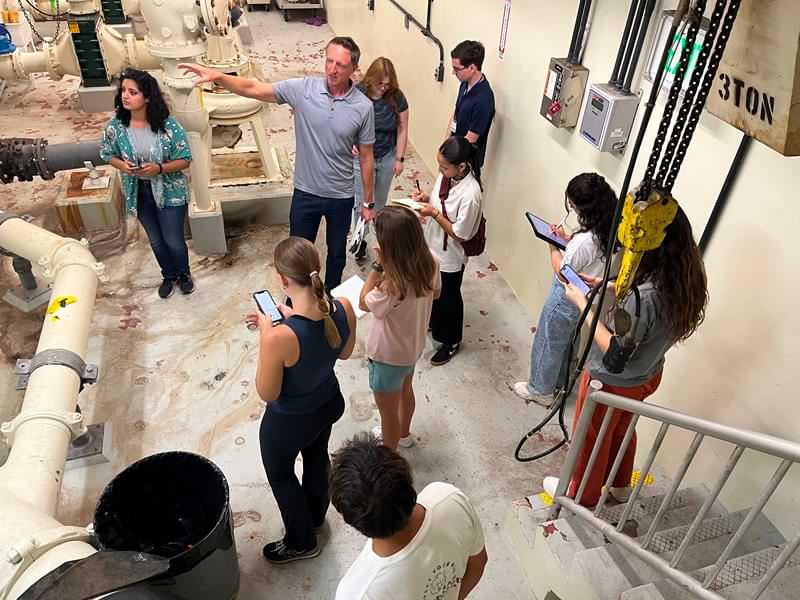 San Elijo Orchids & Onions
Date: October 15, 2023
In September San Elijo JPA was nominated to receive an Orchid for Public Architecture for its Water Campus Improvement Project, in Encinitas CA.

Voting has concluded and winners were announced on October 5, 2023. We had a great turn out in votes and comments and would like to thank everyone who participated in supporting San Elijo JPA!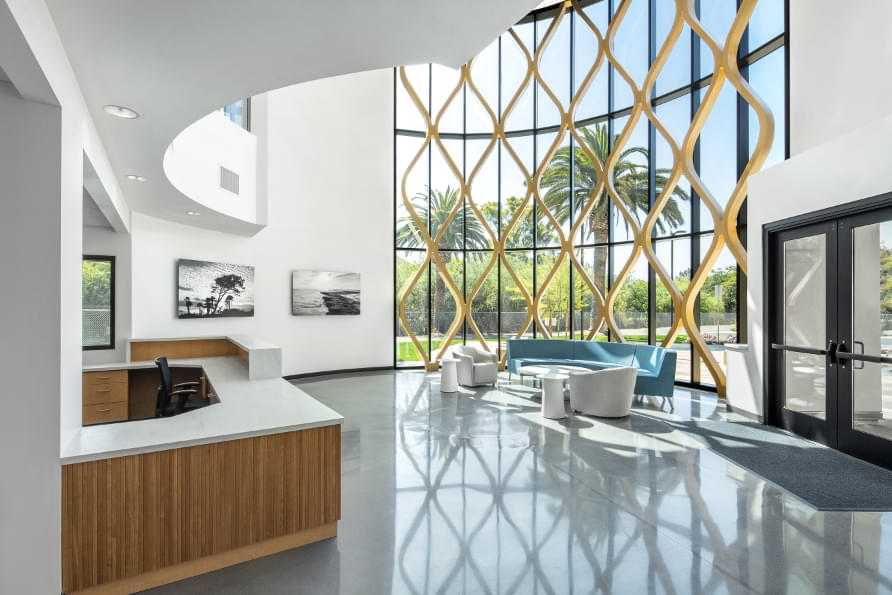 Water Tours for Community Groups
The San Elijo JPA welcomes school and community groups to schedule tours of the San Elijo Water Campus. We are proud to serve the community and protect the environment. During tours of the Water Campus, visitors can see the treatment and recycling processes in action. A laboratory, customized computer software, powerful
pumps and filtration systems support our operations. Come and see how all of it works!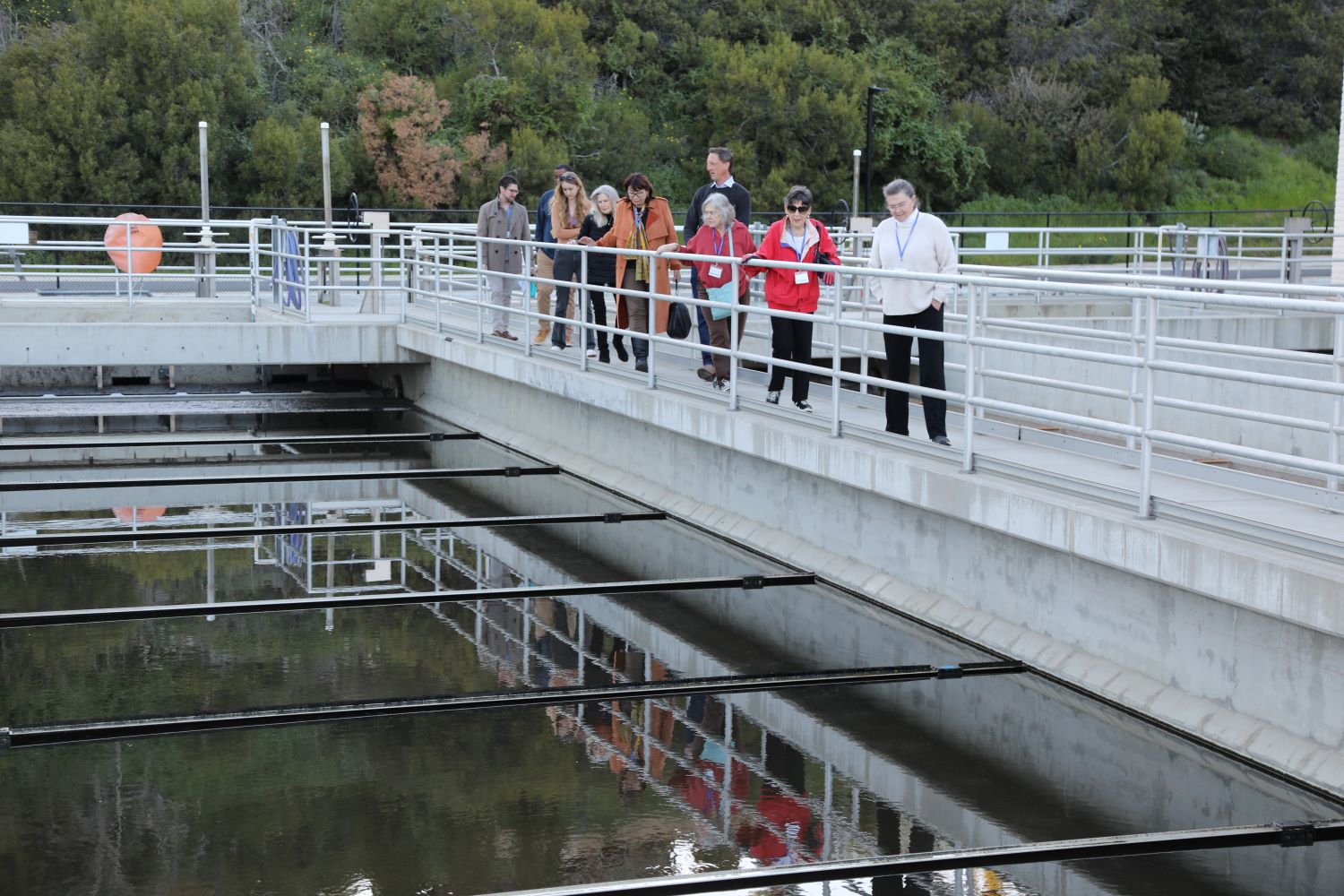 A 25-Year Milestone: Todd Hutchinson Longest Standing Employee at San Elijo JPA
Date: August 3, 2023
It's easy to get Todd Hutchinson talking about wastewater treatment and how it has improved since the late '90s.
As the most senior Lead Operator for the San Elijo Joint Powers Authority, Hutchinson has seen it all and proudly celebrates 25 years of service to the agency that serves Encinitas, Solana Beach, Del Mar and portions of Rancho Santa Fe. The Board of Directors of San Elijo JPA is recognizing this milestone achievement at its next meeting on August 15th.
"In a plant like this, the operator needs to know everything," says Hutchinson, who thoroughly understands that knowledge of water treatment, operating industrial equipment, and working around high voltage and potentially dangerous chemicals, are all part of the job.
"Part of our success at San Elijo is having a dedicated and diverse team that adds to the collaboration of ideas and level of coordination it takes to run our facility. As a well-rounded individual, Todd embodies this core value," states General Manager Michael Thornton. Starting his career with service in the Air Force, Hutchinson went on to earn a computer programming certificate from Coleman University.
In 1998, Todd decided on a career change and started at San Elijo JPA as an entry level Wastewater Treatment Operator. His daily tasks involved taking manual readings from analog meters and meticulously calculating daily flows using paper, pen, and calculator. Mechanical chart recorders diligently logged the systems' performance on rolls of paper, a time-honored process in those days.
Fast-forward to the present, and a remarkable transformation has taken place in the industry and Hutchinson's day-to-day workflow. From a single workstation, he can monitor the operations of the treatment plant while simultaneously consuming real time information from a dozen remote facilities that are integrated components of the wastewater collection, treatment, and recycling systems. Positioned at a standing desk, facing a supersized monitor, Hutchinson now commences his workday at the Supervisory Control and Data Acquisition (SCADA) system, working alongside his team and this cutting-edge technology to produce over 500 million gallons of recycled water annually.
Having embraced the advancements of science and technology over the course of his career at San Elijo JPA, Hutchinson has experienced decades of change and now works seamlessly with a completely digitalized, modern system.
Hutchinson's versatility has been exemplified by his commitment to a path of learning and adapting throughout his career, remaining steadfast on his journey with the organization and ensuring his long- term contribution to the success of San Elijo JPA. "His 25-year dedication to the field is truly commendable and has played an integral role in advancing wastewater treatment for the betterment of our community" said Michael Thornton.
"It's a great place to work," Hutchinson warmly expresses. Beyond being a place of professional growth and shared purpose, San Elijo JPA has become a community where he has "made a lot of lifelong friends." The team at San Elijo JPA is immensely grateful to have him as part of their workforce, valuing not only his expertise but also the camaraderie and lasting impact he brings to the organization.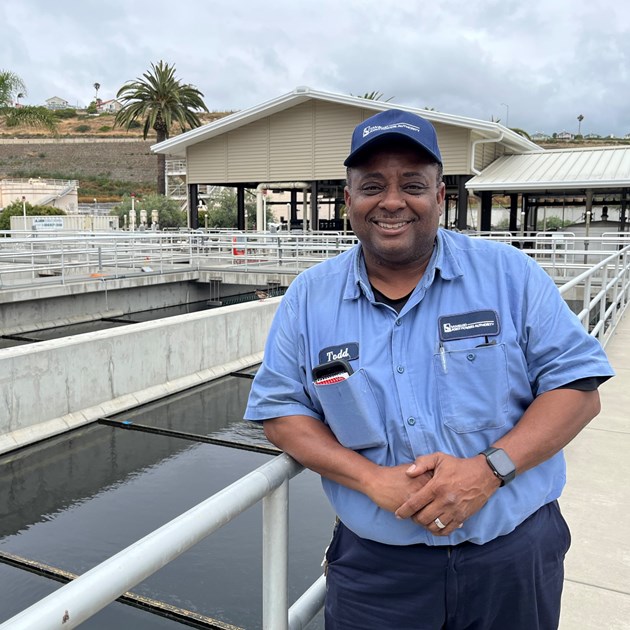 Bike and pedestrian path, parking and vehicle charging at Water Campus
Date: July 5, 2022
The San Elijo Water Campus on Manchester Avenue in Cardiff-by-the-Sea provides public parking, electric vehicle charging, and a 12-foot-wide, paved path for pedestrians and bikes to improve mobility in north coastal San Diego County.
These improvements complement the $120 million North Coast Corridor program, a Caltrans and SANDAG initiative that includes bikeways, widening of Interstate 5 and a restoration of San Elijo Lagoon, among other improvements.
Bike and pedestrian paths connect Solana Beach and Encinitas and improve access to the San Elijo Lagoon and Nature Reserve. One of the paths runs from Solana Hills Drive in Solana Beach to Birmingham Drive in Encinitas and crosses San Elijo Lagoon by way of a suspension bridge beneath the freeway. Other paths connect to a network of new and existing trails within the lagoon reserve.
One route, on Manchester Avenue, runs between Interstate 5 and the Water Campus, where 31 parking places, six electric vehicle charging stations, drinking fountains, and a small park are open to the public. At the Water Campus, the Manchester Avenue bicycle path continues northward to Birmingham Drive, leading toward the Encinitas Community Park.
Public amenities at the Water Campus were built during a $20.6 million campus improvement program in 2021.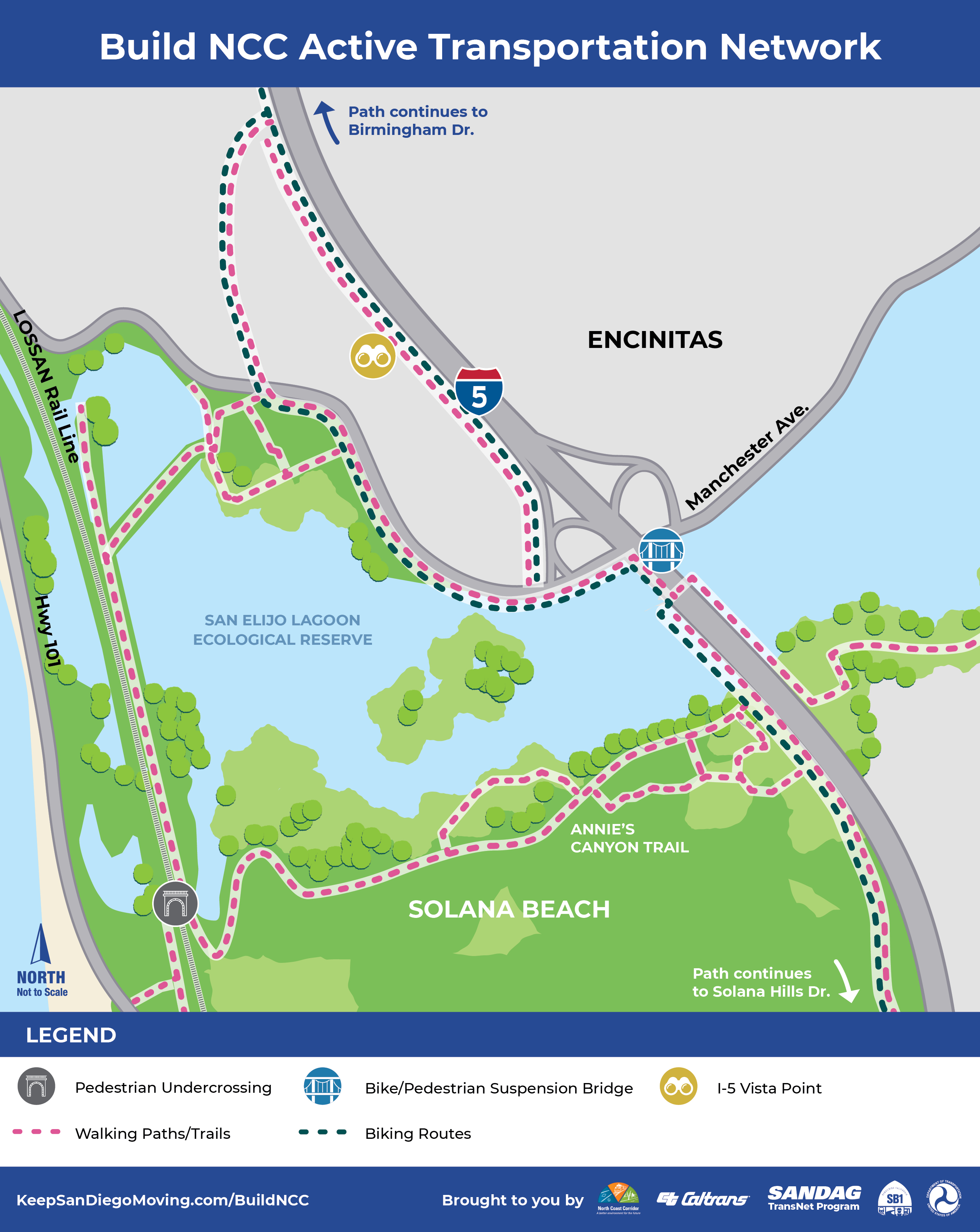 EV Charging Opens at Water Campus
Date: March 14, 2022
Visitors to San Elijo Lagoon can charge their electric vehicles while hiking at the nature reserve. Six new charging stations have opened to the public at the San Elijo Joint Powers Authority Water Campus on Manchester Avenue. Electric vehicle charging went live this month and is one of many new upgrades at the Water Campus.
ChargePoint, Inc., a third-party vendor, maintains the vehicle charging system and handles users' billing and network connections. At the charging stations, fees are designed to recover the costs of electricity and running the system. A parking fee begins after the third hour of charging.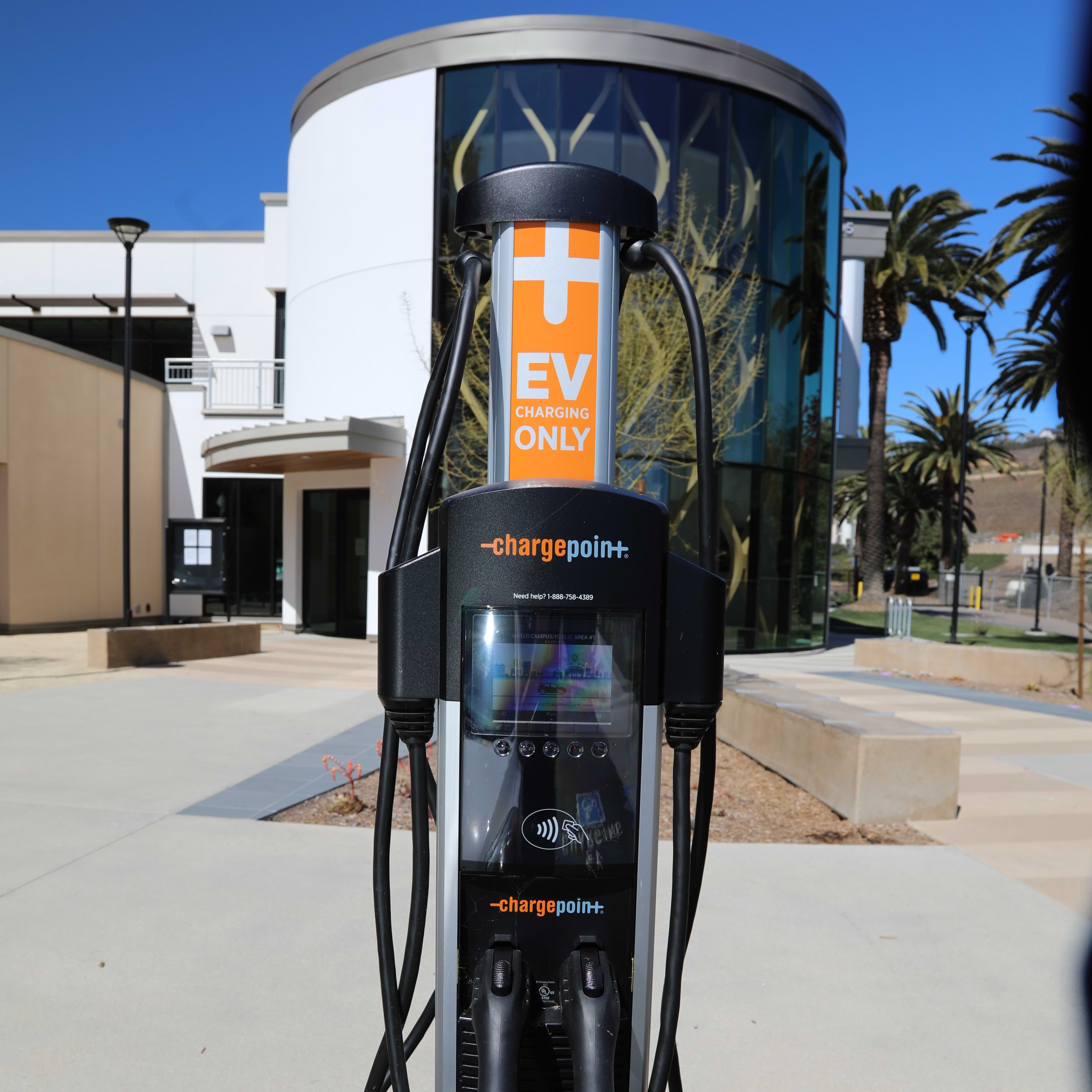 Ribbon-Cutting for Water Campus Improvements
Date: October 19, 2021
On Tuesday October 19, 2021 SEJPA's Board of Directors, along with General Manager Michael Thornton, cut the ribbon on $20.6 million in community-focused upgrades to the Water Campus on Manchester Avenue, known formally as the Water Campus Improvement Project. Elected leaders from Encinitas, Solana Beach, Del Mar and the State of California joined about three-dozen community members to celebrate completion of the two-year construction program. One of its crowning features is a modern, two-story administrative building and learning center.
"It's an important project that modernizes aging facilities and adds renewable energy while improving public access and increasing walking and biking paths in our coastal cities," said Chairwoman Kristi Becker.
The campus improvements provide numerous public amenities, including parking for the nearby San Elijo Lagoon Nature Center; pedestrian safety improvements on Manchester Avenue; electric vehicle charging; a small park on Manchester Avenue, and a multi-use bike and pedestrian path built in partnership with Caltrans. The multi-use path connects Manchester Avenue to Birmingham Drive and is set to open in the May 2022.
The project includes a new operation and administration building, facilities for stormwater capture, the permanent preservation of sensitive open space, and the installation of a $2 million solar system to meet up to 25% of the facility's electrical demand.
The original wastewater facilities on Manchester Avenue opened in the mid-1960s. Over the years, the award-winning facility has evolved into a water campus that treats and recycles wastewater, hosts water research in collaboration with local universities, and provides educational opportunities to schools and colleges. The ribbon cutting event highlighted the partnerships with Caltrans, which contributed $5.4 million for the multi-use path and improvements on Manchester Avenue, and the California Department of Water Resources, which funded $300,000 for stormwater capture and reuse. In addition, great support also came from the cities of Encinitas and Solana Beach, the County of San Diego and the Nature Collective.
"We always appreciate the outstanding collaboration we get from our neighbors and partners," said SEJPA General Manager Michael Thornton.